NEWS UPDATES
We made our goal!
Thank you to everyone who donated to our Indiegogo campaign!! We achieved our goal and we couldn't have done it without you!

TICKETS FOR HEAD OVER HEELS ON SALE NOW!
Click the link below!
We are THRILLED to announce to you that Dirty Minds Theatre Company will be producing HEAD OVER HEELS on August 23rd & August 24th at Theatre 80 on St. Marks Place in NYC!! Created by the visionaries of Hedwig and the Angry Inch, Avenue Q, and Spring Awakening, this laugh-out-loud modern musical fairy tale is set to the music of the iconic 1980s all-female rock band, The Go-Gos. Featured songs include, "We Got the Beat," "Our Lips are Sealed," "Vacation," Belinda Carlisle's "Heaven is a Place on Earth," and "Mad About You." A hilarious, exuberant celebration of love, HEAD OVER HEELS follows the escapades of a royal family on an outrageous journey to save their beloved kingdom from extinction—only to discover the key to their realm's survival lies within each of their own hearts.
All proceeds from this production are to benefit The Ali Forney Center.
TICKETS ON SALE NOW!
Ticket link: https://www.brownpapertickets.com/event/4294801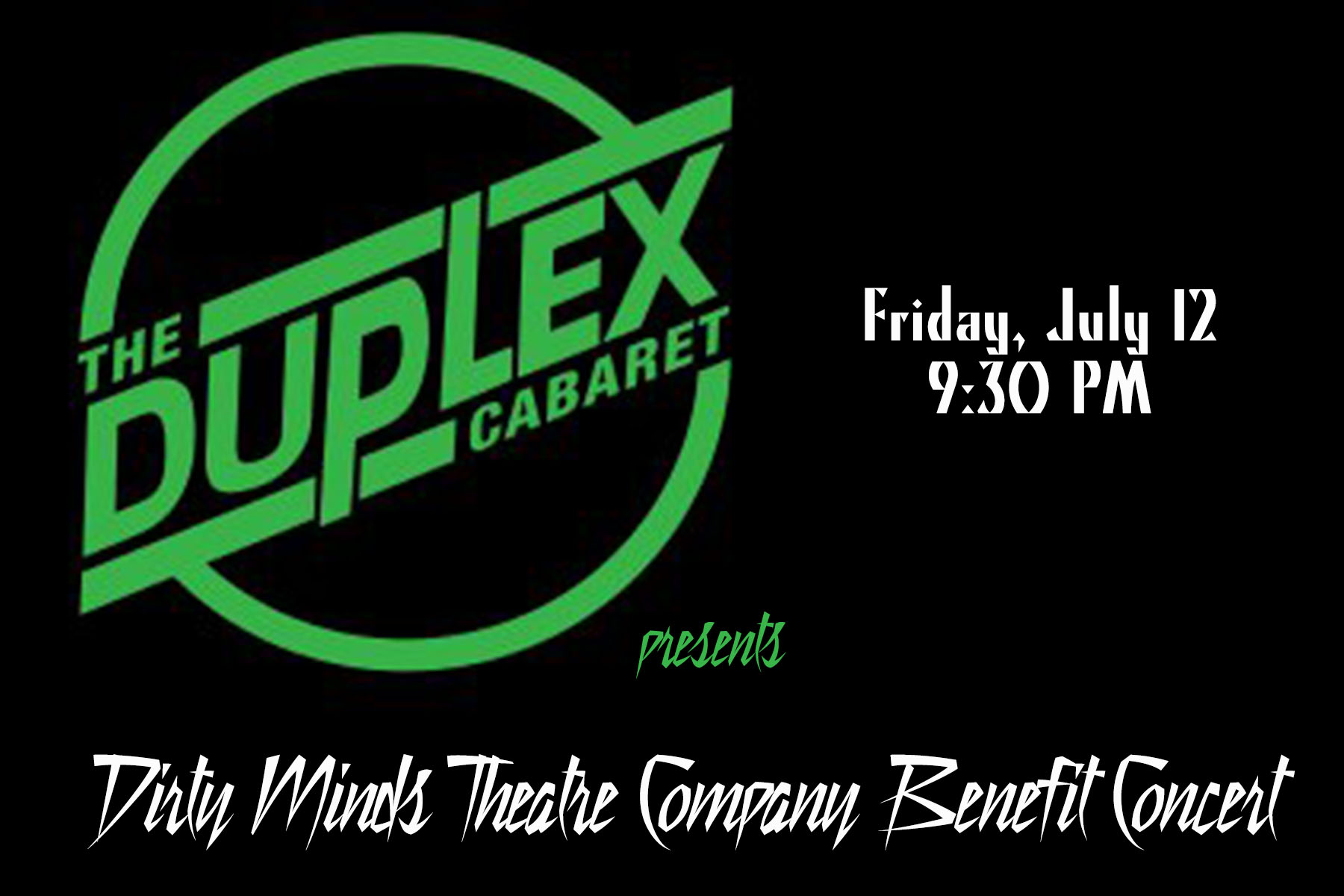 Come to our Benefit Concert!
🎵What good is sitting alone in your room?! 🎙Come hear OUR music play! 🎶 Announcing 🥁🥁🥁 Dirty Minds Theatre Company at The Duplex! Come join us on July 12th at 9:30PM for our Benefit Concert! Help us fund our production of 🎭HEAD OVER HEELS🎭!! We have a VERY exciting line up that we will be announcing over the next couple weeks. $25 tickets online and $30 at the door! Come unleash your Dirty Minds!💋 And your wallets! 💸
Casting Announcements for HEAD OVER HEELS
(KING BASILIUS) is humbled to be a part of the inaugural Dirty Minds Theatre Company production. He is a graduate of the CAP21 Musical Theatre Conservatory. Recent credits include THE FANTASTICKS (El Gallo) and INTO THE WOODS (Cinderella's Prince/Wolf) at Clear Space Theatre, and Cabaret at BCCPA. Endless thanks to Mom, Dad, JP, April, Alice and Alfred, all the Aunts, Uncles, Cousins, Grandma Dulce, Mackenzie, and you the audience for supporting this lovely art form.
(GYNECIA) is a bi-coastal actor, model, singer, and songwriter from Fish Creek, WI. She is a graduate of CAP21 Professional Program for Musical Theater and Performance. Recent experiences include walking the runway at MKE Fashion Week as one of the original MoonBabes and performing her original music throughout Northeastern Wisconsin. Zephyr is delighted to be joining DMTC's cast of Head Over Heels as Queen Gynecia! Love and gratitude to all the friends and family that make this artist's life possible. xx
(DAMETAS) is a New York City based actor and director. Favorite roles include: Adam/Noah (Children of Eden), Emcee (Cabaret), Ethan (The Full Monty), Abraham (Altar Boyz), Frankie (Forever Plaid), and Danny (Baby). Graduate of Stanford University and CAP21; San Francisco Bay Area Theater Critics' Circle Award winner; co-founder of the RED CARAVAN theater company; company member of Poetic Theater Productions. www.andrewwilliswoodward.com
(PYTHIO) is an actor, singer, director, designer, drag artist, and founding member of Dirty Minds Theatre Company! Graduate of Los Angeles County High School for the Arts and CAP21 Conservatory. Acting credits include Paul in A Chorus Line (Bucks County CPA) and Rosencrantz in Hamlet (Club Cumming) J Nick served as the Assistant Director, Assistant Choreographer, and Hair/Makeup designer for CAP21's production of CryBaby. His work in fashion has been seen on the runway at New York Fashion Week, the LoveBall, and at the Met Gala.
(MOPSA) National Tour: Cabaret (Sally Bowles). Off-Broadway: The Big Bang Theory: A Pop-Rock Musical Parody (Penny). Regional: Grease (Sandy), Million Dollar Quartet (Dyanne), The Robber Bridegroom (Rosamund). BA, The University of Tennessee; CAP21 grad. Endless love and gratitude to God, my dear family, and my sweet friends. I could not survive without you. Many thanks to Aimee and Dirty Minds Theatre Company for bringing me along on this journey! IG: @imbaileymccall, www.baileymccall.com
(PAMELA) is a Latinx, Bronx native, artist and is THRILLED to be a part of Dirty Minds Theatre Company's inaugural production of Head Over Heels! Credits include: West Side Story (Maltz Jupiter Theatre), Evita (Bay Street Theater), The Bubbly Black Girl Sheds Her Chameleon Skin (Progressive Theater), Hair (Pentangle Arts), and more! Tremendous gratitude and love to the cast, crew, and creatives, especially the incomparable Aimee Francis who sees magic in me before I believe it's even there. Love to Ma, Papi, Nina, and Bryan for holding my hand through this journey! elisagalindezactor.com IG: eh_lee_sah #palante
(PHILOCLEA) is a Co-Founder of Dirty Minds Theatre Company. She is a graduate of CAP21. Favorite credits: Little Women (Jo), How to Succeed… (Smitty), and A Chorus Line (Judy). She recently produced and performed in the sold-out cabaret Tale as Old As Wine: An Intoxicating Evening. Grace now works as an Assistant Director for the musicals at PS87's After School Program. Thank you to Mom, Dad, Katelyn, Robby, and all my friends that supported me through the crazy times. And thank you so so much to my Dirty Minds Team. Look! We did it!
(MUSIDORUS) is beyond excited to be a part of Dirty Minds Theatre Company. He is thrilled to be doing this show and to help raise money for a great cause with this incredible team. He is a rising senior at CAP21/Molloy College and Maryland native. Some of his past credits include: Emma! A Pop Musical (Frankie Churchill), Little Shop of Horrors (Orin), Pippin (Pippin). He would like to thank his family, friends, and teachers for their continuous support and love. He hopes you enjoy the show!!
(ENSEMBLE) is thrilled to be joining Dirty Minds Theatre Company is their inaugural season! International/National Tour: The Wizard of Oz (TinMan) Regional: Anything Goes (Sailor), Mamma Mia! (Eddie), White Christmas (Phil), Chicago (Ensemble). Norwegian Cruise Lines (RSS Explorer). Training: CAP21 Conservatory. Lots of love to friends, family and his incredibly supportive parents. @nickgurinsky nickgurinsky.com
(ENSEMBLE) couldn't be more ecstatic to be a part of Dirty Mind's inaugural production of Head Over Heels! She is currently performing in The Imbible: A Spirited History of Drinking and The Imbible: Day Drinking at New World Stages. Recent credits: The Oldenburg Suite (NYMF 2019), Anxiety Stew (Cherry Lane Theatre), and Norwegian Cruise Line Principal Vocalist. CAP21 Alum. @nikki_peee
(ENSEMBLE) Bio coming soon!
(ENSEMBLE) is thrilled to be a part of DMTC's inaugural production and the work they are doing for the LGBTQ+ community! Recent credits include This Girl Laughs, This Girl Cries, This Girl Does Nothing (Atlantic Theatre Company), Living with Olivia Cadence Donovan (NY Theatre Festival), and Cradle Two Grave (Corkscrew Theatre Festival). She has also been seen in several developmental showcases and cabarets throughout NYC. She'd like to thank her fabulous director, Aimee, her inspirational cast and team, and all of her amazing supporters, who she wouldn't be here without. CAP21 Musical Theatre Grad. sarahgkowalski.com
(ENSEMBLE) is a New York City based actor, writer, director/choreographer. For the past two years he has been touring the United States and internationally with The Wizard of Oz as the Scarecrow. He is a co-founder of the creative artists group known as The Fellowship. They are best known for their original musical Bright and Brave for which Saleeby wrote the lyrics. Other credits include: Molasses in January (Vincent, original cast; Off Broadway), Bat Boy: The Musical (Bat Boy), Little Shop of Horrors (Seymour), Hello Dolly (Cornelius), Peter Pan (Curly), Jesus Christ Superstar. jacksaleeby.com IG: @jacksaleeby
(ENSEMBLE) Stage credits include Nerve (UNDER St. Marks), The Sound of Music (AlabamaShakespeare Festival), Mamma Mia (Weston Playhouse), Schoolhouse Rock Live! (Weston Playhouse), Pippin (Princeton Summer Theatre), The Joe Iconis Chirstmas Extravaganza (54 Below), Broadway Rising Stars (The Town Hall) andmore! THANK YOU to the whole Dirty Minds team for inviting me to join your inaugural production - honoured to be included in your art, community, and cause! CAP21 Grad. renee-gagner.com IG: @reneegagner
(ENSEMBLE) Born & raised in Harlem, NY, Tatiana H. Green graduated from Adelphi University with her BFA in Dance. Tatiana has passionately, thrilled audiences appearing in Theater, Film, and Print. She is a Jazz Dancer Educator for Alvin Alvin American Dance Theater: AIE Ailey Instructor and a Musical Theater Artist within the NY & NJ communities. Credits include: BUBBLY BLACK GIRL. MEMPHIS. ELF & more. Thank you Dirty Minds Theatre Company for allowing me to be a part of this fantastic production. Follow me IG: @harlemfamouwun @tatiana.h.green
(ENSEMBLE) is thrilled to be a part of Dirty Minds' inaugural production! Favorite credits include: Heather Chandler in Heathers and Becca in Rabbit Hole (Clear Space Theatre Company), us. Sheila/Swing in A Chorus Line (Bucks County CPA), Siren Sister in Monstersongs (Rob Rokicki, NYC), Hotbox/Martha in Guys and Dolls (Weston Playhouse), and Audrey in Little Shop (ATC). She is so grateful to all of DMTC, her family, friends, teachers and Jacob (who is up here with her) for their constant support and guidance. Grad of CAP21 Conservatory. IG: @kenzraina, www.MackenzieRainaJones.com
(ENSEMBLE) is head over heels to be here! Recent credits include: Oklahoma at Pittsburgh CLO and on tour with Odyssey Dance Theatre. Wright State Alum. Much love and gratitude for my family, friends and Dirty Minds! KyleJamesAdam.com @elykmada876
Who is Dirty Minds?
Dirty Minds Theatre Company is a 501(c)(3) dedicated to supporting LGBTQ charities in New York City.